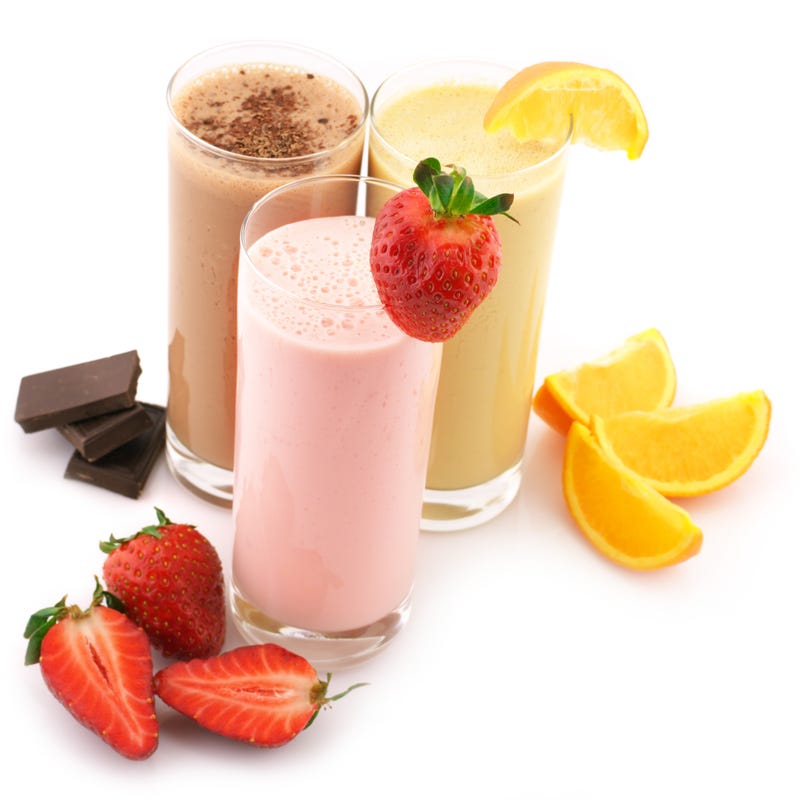 Are you a busy mom on the go, but still place importance on your diet and nutrition? If so, protein shakes are a quick and easy meal replacement that pack a nutritional punch!
Do you hear "protein shake" and think, "Gross"? Protein shakes are not what they used to be! Protein powders have come a long way as far as taste and with so many recipes and beneficial ingredients to add, your shake will be both tasty and nutritious.
Here are 8 delicious protein shake options that will help answer the question of "What protein should I use?" and "How do I make it taste good?".
Vanilla Coffee Shake
What if you could enjoy an energetic coffee shake that not only provides a daily dose of protein but also tastes great and satisfies that sweet tooth? What if we told you it contains ice cream too? Yep, this vanilla coffee shake is a perfect for breakfast or for combating that afternoon slump. Here's what you'll need:
1 ½ cups low fat milk
½ cup low-fat coffee flavored ice cream
2 scoops vanilla protein powder
Throw them in a blender, and mix. The frozen ice cream helps give the shake a thick and creamy texture. You can even substitute the vanilla protein powder for chocolate. Milkshake anyone?
Orange Juice Shake
Do you prefer the tartness of fruit in the morning over the richness of coffee and vanilla? Well, then this orange juice shake is for you! Using the real juice from 3 large oranges, 1 scoop of vanilla or strawberry protein powder and a handful of ice, this shake provides a hefty dose of vitamin C.
Want to sweeten things up a bit? Add in 1 packet of artificial sweetener or 1 teaspoon of organic sugar. Grab a straw and go!
Oatmeal Shake
If you love oatmeal but don't have time to mix up a bowl and eat it each morning, an oatmeal shake meal replacement will quickly become your new best friend. Oatmeal contains countless nutritional benefits including fiber, vitamin B, and magnesium just to name a few! Can't imagine drinking an oatmeal shake? Give this one a try and you'll become a believer!
1 cup dry oatmeal
½ teaspoon cinnamon
⅛ cup pure maple syrup (a great natural sweetener in any recipe!)
1 tablespoon chopped almonds (optional)
1 ½ cup low-fat milk
2 scoops vanilla protein powder
Blend and watch your taste buds and your energy levels soar!
Mixed Berry Shake
If you're a berry kind of gal, this shake is for you! With strawberries, blueberries, and raspberries all incorporated into this recipe, it's every berry-lovers dream. You can use fresh or frozen berries.
If you opt for the frozen variety, you can omit the ice from this recipe. But, bear in mind that fresh berries do offer more nutritional value than their frozen counterpart when consumed right away. Here's what you'll need:
2 scoops protein powder(vanilla or strawberry)
15 blueberries
8 raspberries
4 whole strawberries (stems removed)
Ice (optional)
2 cups non-fat milk
The taste of this shake is equally as delightful as its vibrant purple color.
Strawberry Cheesecake Shake
With this indulgent shake, cheesecake is not just for dessert anymore! And this healthy option will help shrink your waistline, while the same can't be said for the decadent dessert version.
Curious as to what gives this shake its "cheesy" flavor? Low-fat sour cream does the trick! You'll never know it's even there once you blend in the berries and a little sweetener.
1 scoop protein powder (vanilla or strawberry)
1 ¼ cups water
8 strawberries
4 tablespoons low-fat sour cream
Ice
Sweetener to taste (recommended to counteract the tartness of the sour cream)
You won't need a fork for this sweet treat! Just a blender and a shaker cup.
Chocolate Peanut Butter Shake
Reeses knows their stuff - chocolate and peanut butter is one of the most classic and enjoyable food combinations in the world! So why not make a shake that incorporates these two awesome flavors?
Not to mention, most health and fitness enthusiasts know that peanut butter is a go-to indulgence that provides some of the best nutritional components out there. So not only does this shake taste amazing, but you can check several of your daily nutritional intake items off your list. Did we mention it contains chocolate?
2 scoops chocolate protein powder
1 cup skim or low-fat milk
1 tablespoon smooth peanut butter
1 egg white
Ice
If you love the taste of peanut butter, you can also use a peanut butter powder in this recipe.
Chocolate Lovers Shake
If you love chocolate (who doesn't?) but peanut butter isn't your thing, this delicious shake will curb that craving and satisfy that sweet tooth. Using real cocoa powder and chocolate protein powder, you'll be in chocolate heaven!
1 teaspoon pure cocoa powder
2 scoops chocolate protein powder
1 ½ cups water
Ice
Sweetener (optional)
1 tablespoon chia seeds (optional)
If you're not familiar with chia seeds, you need to be! You can add these tiny seeds to almost any shake and once blended, they will be unrecognizable. What's not lost is their benefits, which include additional protein, fiber, and antioxidants.
Tropical Shake
Why not finish off our list of the most delicious protein shakes with one that transports us to a tropical island with its coconut and pineapple flavors? If you enjoy shakes with bold and fruity flavors, this tropical shake might soon top your list of favorites.
1 scoop protein powder (plain or vanilla)
1 cup water
½ teaspoon coconut extract
½ teaspoon pineapple extract
½ frozen banana
Ice (optional)
Sweetener (optional)
Adding bananas to your shakes not only provides a daily dose of potassium but it also helps with texture - creating a thicker, creamier blend. Another helpful tip is to cut your bananas in half and freeze them. You can easily drop them into any shake and eliminate the ice!
With these 8 protein shake recipes, your meal replacements will be tastier and more satisfying than you ever thought possible. Thinking of swapping out certain ingredients for others? Go for it! Get creative and experiment with different flavors and combinations. Just remember to keep it healthy! Feel free to comment below with some recipes of your own.